"Year End Sale" is live | 50% Price Drop + Extra 12%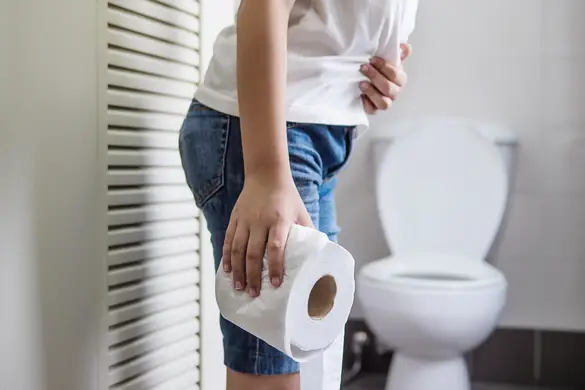 Common Indian foods for relief from constipation
Woman having stomach ache, bending and holding hands on belly, discomfort from menstrual cramps.
Spending our mornings in washrooms is not at all the kind of start to day that any one of us enjoy. Constipation needs no introduction, each one of us go through it at some point of our life. If not taken care of, it can lead to serious conditions and can leave you frustrated and irritated through the day. But the good news is it can be treated easily with age old ingredients from our kitchen. Excited to know what all? So, here are some of dadi maa's food suggestions and remedies to your rescue that will make your mornings fuss free.
1. Papaya
Fresh papaya is just perfect for improving digestion.
Papaya tops the list for treating almost every health condition, from glowing skin to delayed ageing to managing blood sugars and blood pressure to improving digestion and regularising bowel movement. Papaya is a rich source of fibre and contains an enzyme called papain that softens stools and relieves constipation. Hence, a bowl of papaya in your mid meals is what your need to get rid of hard stools.
2. Ghee
Ghee manages constipation.
Is ghee missing from your chapatis and dal chawal? If yes, then that can be one of the reason you are suffering from constipation. Ghee is a therapeutic food which provides number of benefits and relieving constipation being one of it. Ghee works as a laxative with no side effects and provides additional benefits like increases HDL (good cholesterol), improves eye health, heart health, digestion, boosts immunity and the list goes on. It is loaded with vitamin A, E, K and butyric acid that lubricates the gut lining and helps in easy passage of stools. So, bid goodbye to constipation by adding a teaspoon of ghee to your food without fear. Also, you can mix one tablespoons of ghee in warm warm milk, and drink it before going to bed if suffering from chronic constipation.
3. Amla
Amla regularises bowel movement.
We all have grown up listening to our dadi nani talk about how amla (Indian gooseberry) can do wonders to our health. Like it can be eaten in multiple ways as achaar, murabba, candy, sabzi, juice, powder, etc it has multiple benefits too. It boosts immunity being rich in vitamin C, fights cancer due to its antioxidant properties, reduces hair fall and premature greying due to its iron stores, manages diabetes, improves heart health, vision and bowel movement because of its high fibre and antioxidants content. I guess, all these benefits are more than enough to add 1 amla daily in our meals. You can either eat it raw or as pickle, candy, murabba, etc.
4. Banana
Ripened bananas relieves constipation.
Go bananas! Ripened bananas are one of the richest sources of fibre. Fibre pulls water and softens the stools which make it easier for the stools to pass. So, if you are facing difficulty in passing stool or not having a regular bowel movement, try to have 1 ripened banana everyday.
5. Raisins
Dried raisins for constipation.
Sweet and sour in taste, dehydrated grapes or shall I say raisins works like magic for regularising bowel movement. Raisins are an amazing source of potassium, vitamin C, iron, calcium, antioxidants, and last but not the least fibre. Adding raisins to our daily routine helps us with managing blood pressure, strong bones, optimum haemoglobin levels and relieves constipation. Therefore, to enjoy all these benefits and get one step closer to healthy you eat 7-8 raisins everyday. You can enjoy it raw or as an alternative to sugar in your desserts.
All these remedies can be of help to you only if you drink enough water and improve your lifestyle. Because constipation is the result of regular consumption of processed and refined food, lack of physical activity, improper sleep cycle, and high stress levels. Therefore, to get rid of constipation permanently work on improving your lifestyle, add above mentioned foods in your daily routine and inculcate healthy habits.
Discover by:
© 2023, GetSupp. All rights reserved.