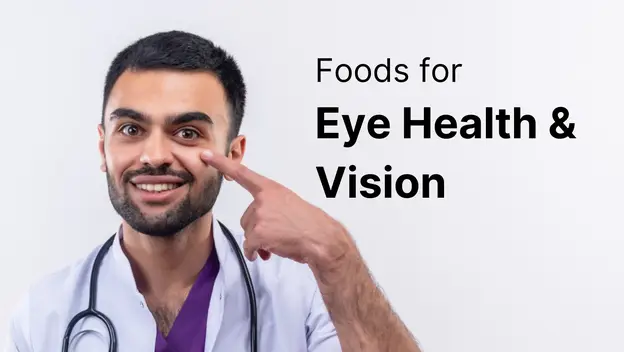 Simple Indian Foods for maintaining eye health & vision
Most people believe that with age or too much eye strain, failing eyesight is normal and even inevitable. However, the truth is a healthy diet combined with a supportive lifestyle can significantly reduce the risk of eye health problems. Here are the best food items for your eye health that you can include in your diet:
Loads of Vegetables
Vegetables are rich in both lutein and zeaxanthin. They are also good sources of vitamin C, another vitamin that is considered to be eye-friendly. Spinach or palak, carrots, tomatoes, sweet potato, broccoli, and methi are some examples of vegetables that are good for the eye.
Include Seeds in your diet
Seeds like chia seeds, flax seeds, and hemp seeds contain high levels of omega-3s and vitamin E. Another reason to add them to your diet is that they are easily available in the market in most grocery stores.
Legumes and nuts are great!
Nuts are rich in omega-3 fatty acids and contain high levels of vitamin E as well, which can protect the eye from damage caused due to aging. Nuts and legumes that are great for eye health are walnuts, brazil nuts, cashews, peanuts, and lentils.
Water
Drinking plenty of water is vital for eye health as water is a fluid that is essential to life. Drinking a lot of water can prevent dehydration and reduce the symptoms of dry eyes.
Citrus fruits
Citrus fruits contain high levels of vitamin C. Vitamin C is an antioxidant that can help fight age-related damage to the eye.
Some examples of vitamin C-rich foods include lemons, oranges, grapefruits, amla, etc.
Eat healthy for healthy eyes!
Eating food items that contain omega-3 fatty acids and vitamin C, and vitamin A will help you maintain eye health. If you are looking to add supplements to your diet, getsupp is a trusted place for supplements from top brands across India. For more information, check out the website.
Discover by:
© 2022, GetSupp. All rights reserved.