"Year End Sale" is live | 50% Price Drop + Extra 12%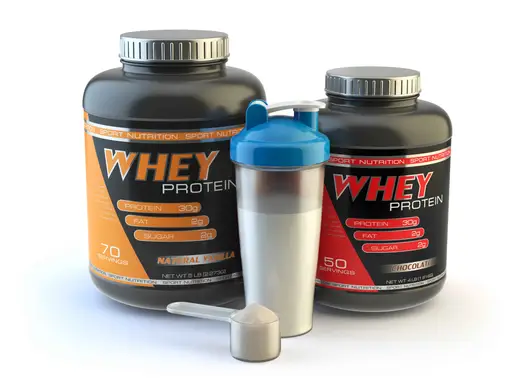 List of Top Whey Proteins for Muscle Gain
Given the multitude of options available in the market for whey protein powder, it surely is a daunting task to find the best whey protein for muscle gain.
And, why not? From fitness enthusiasts to someone simply looking to boost their protein intake, everyone knows that whey protein supplements are the ideal source for muscle gain and complete protein requirements.
So, without further delay, let's look at the list of best whey proteins for muscle gain. We have included the top recommendations, brand insights, and pros and cons to help you make informed choices.
List of Top 5 best whey protein for muscle gain
Optimum Nutrition's Gold Standard Whey Protein is selling under the number one brand and is most liked by athletes and fitness enthusiasts. What sets it apart is its minimal ingredients list: milk and soy & its ability to mix smoothly in your favorite beverage. The secret behind of it being the top seller is its wide variety of flavors such as double rich chocolate, vanilla ice cream and many more.To sweeten the deal, you can get amazing discount on this Whey Protein Powder from Optimum Nutrition on GetSupp, so don't miss out the chance to get top-rated and iconic whey protein.
Brand: Optimum Nutrition (ON)
Pros: Banned substance tested, gluten-free, 5.5 grams of BCAAs per serving, worth the price.
Cons: Can cause side effects such as stomach related if overdosed
MuscleBlaze Biozyme Performance Whey Protein is the winner of the '2021 NutraIngredients Award Program,' known for its enhanced absorption formula (EAF). It is the go-to choice for fitness enthusiasts due to its high protein content and advanced absorption technology. I don't think there is any way you would want to let go of buying this bestselling whey protein powder for muscle gain, especially when it is available in rich chocolate and mango flavors.
Brand: MuscleBlaze
Pros: Clinically tested for higher protein and BCAA absorption, labdoor USA certified for safety check
Cons: Can be little expensive
GNC Pro Performance 100% Whey Protein is a trusted choice for athletes and gym freaks for instant muscle gain and recovery post-exercise. This is the perfect companion for your muscle gain journey providing the potential blend of whey concentrate and isolate, delivering 24 grams of protein in every single serving.
Brand: GNC
Pros: FSSAI approved, free of banned substances, gluten-free, no added sugar, variety of flavors.
Cons: Can cause stomach related issues if overdosed.
Ultimate Nutrition's Bodyfirst provides a combination of whey isolate, whey concentrate, protease, and essential nutrients for muscle growth and recovery. While you might not have heard about this brand yet, it is swiftly emerging as one of the best whey proteins for muscle growth. It also ensures a speedy recovery post-exercise, all thanks to enhanced protein synthesis.
Brand: Ultimate Nutrition
Pros: Very affordable, Provides right ratio of whey isolate & whey concentrate for proper protein supply.
Cons: Can cause stomach pain, constipation and gas if overdosed.
Isopure Whey Protein Isolate Powder is the first choice for active individuals that provides a protein-rich formula with immune support benefits. It is considered the best whey protein powder for delivering all the essential amino acids such as BCAAs and leucine etc. Bodybuilders prefer this whey protein because of its ability to increase muscle mass and muscle recovery after an intense workout.
Brand: Isopure
Pros: It is lactose free and gluten free, provides 25g of protein, 5g BCAAs with vitamins in 1 scoop.
Cons: Generally recognised safe for consumption
Now that we know the champions of whey protein powders, what more about them?
So, these whey proteins are the building blocks of your fitness adventure where the main source is milk. But what if you are lactose intolerant or you have other dietary preferences? No worries, we've got alternatives for you too.
Explore our range of reliable plant protein and casein protein powders, your secret weapons to complete your muscle-building needs
In Conclusion
While you are choosing the best whey protein for muscle gain keep your eye on additives. And let's not forget the golden rule here – whey protein isn't about a one-size-fits-all solution. The magic happens when you integrate them into your daily routine, not replace your wholesome meals.
So choose your best whey protein and begin your fitness journey with the right choices.
Discover by:
© 2023, GetSupp. All rights reserved.