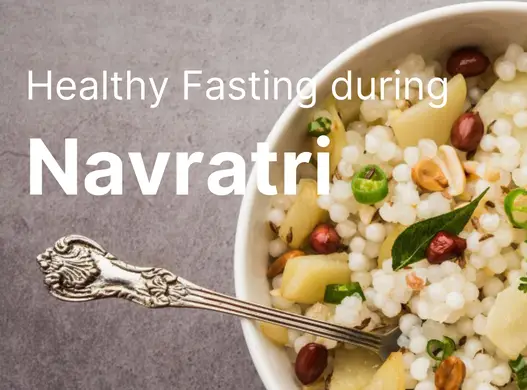 Fasting & Eating healthy during Navratri
Navratri is one of the most awaited festivals of the year but fasting during Navratri can be challenging. As we decide to fast, many times we feel confused about what to eat and what to avoid, and how to fast and stay healthy too. In this article, we will discuss the best healthy food items to eat during Navratri fasts.
Fried or baked makhana
Makhana is one of the healthiest snacks to munch on whenever you feel hungry. You can dry roast some in ghee or bake. Keep it in a jar and have it on the go.
Peanuts
Peanuts or moongfali is another great snack to have during Navratri. You can add some pink salt to it for better flavor.
Coconut water
Coconut water it full of electrolytes and nutrients. It helps keep you hydrated for a long. When you are fasting, try to have at least one glass of coconut water every day to get all the health benefits.
Banana and other fruits
If you were thinking about what fruits to eat, snacking on some bananas is a must. You can also make a banana smoothie if you do not wanna eat the fruit. Other fruits that can help you boost your energy levels during fasting are apples, oranges, papaya, watermelon, mango etc.
Dry Fruits
Walnuts are full of omega-3 fatty acids and antioxidants. Snacking on them whenever you feel hungry try making a banana walnut smoothie to have fun with it. Other dry fruits you can eat are almonds, pistachio, cashew nuts and kishmish ( raisins ). All these will help keep you energetic throughout the day during the fast.
Sabudana Khichdi
Sabudana is also called pearls sago in English. It contains high levels of starch and carbohydrates. During fasting, our bodies need energy which can be met by eating sabudana.
Sabudana khichdi is easy to prepare, adding ingredients like peanuts, tomato, and chilies can increase the nutritional value. Another recipe is sabudana kheer which is delicious and equally healthy.
Stay healthy during your fast!
Taking care of your self during fast by following a healthy diet will not only help you enjoy navratri more, it will also add to your overall well being and mental peace. Consult with a doctor if you need more guidance on how to navigate fasting during these 9 days.
Discover by:
© 2022, GetSupp. All rights reserved.