"Year End Sale" is live | 50% Price Drop + Extra 12%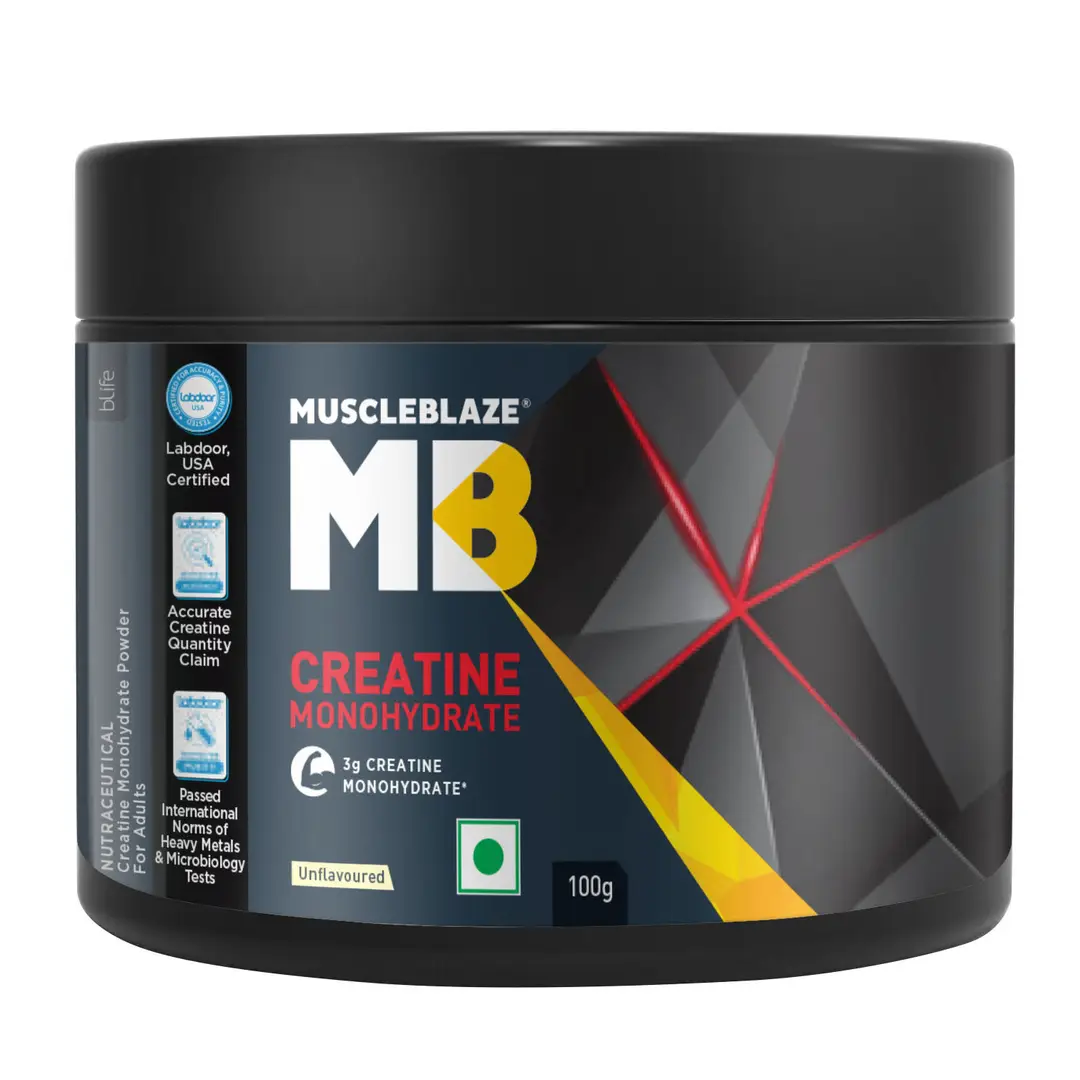 Visit MuscleBlaze Shop
MuscleBlaze - Creatine Monohydrate - for Quick muscle recovery during exercise - 100 gm
Extra 12% off: use coupon YEAREND12
Get Flat 12% off, upto ₹100/-. Minimum order value ₹299/-
Extra 5% off: use coupon GETSUPP5
Get Flat 5% off, upto ₹200/-. Minimum order value ₹299/-
100% Safe & Authentic Product
This product has been sourced directly from MuscleBlaze
Free Delivery on orders above ₹299/-, Limited time offer!
Sold By
Sapiens Labs
Sapiens Labs, Village Dhana-Bagbania, P.O.Manpura, Tehsil Nalagarh, Solan (Himanchal Pradesh)-174101
License No: 11221303000563
Free Delivery*
Cash on Delivery*
Easy Returns*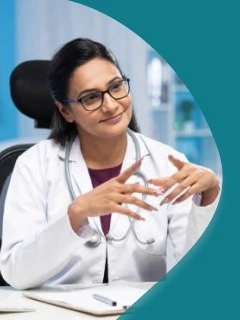 100% Safe Products, with Free Expert Guidance for Assured Results
Our Certified Dietitians will help you see results and reach your health goals in an easy & sustainable manner.
Why is this good for you?
Boosts Strength and Endurance
MuscleBlaze Creatine Monohydrate is known to help enhance one's strength and endurance. The fast-absorbing micronized creatine may provide a rapid absorption rate that potentially leads to faster results in building strength and resilience.
Certified for Purity and Accuracy
MuscleBlaze Creatine Monohydrate is Labdoor USA certified for both purity and accuracy, ensuring that it meets international norms for heavy metals and microbiology tests. This certification also guarantees the accurate creatine quantity claim in the product.
Energy Improvement
The creatine in this MB creatine monohydrate 100 gm powder supplement is known to replenish energy levels. This may enhance your body's capacity to perform high-intensity workouts, lift heavier weights, and overall improve physical performance.
Promotes Lean Muscle Gains
MuscleBlaze Creatine Monohydrate may assist in muscle volumization and the improvement of lean muscle mass. Its ability to potentially contribute to actual gains in size and strength makes it a favorite among athletes, bodybuilders, and power-lifters.
Cost-Effective and Pure
The high-quality and pure creatine monohydrate powder is cost-effective, making this Muscle Blaze creatine monohydrate supplement an economical choice. It is also vegetarian-friendly, further broadening its appeal to a wider range of individuals.
How to use
Directions To Use:
Add 250 ml to 300 ml chilled water and shake for 30-40 secs untill dispersed properly. It can be consumed with protein or juice as well. Do not consume with milk.
Recommended Dosage:
Add 1 level scoop 3g or as directed by the HealthCare Professional.
Safety Disclaimer:
Pregnant or lactating women, diabetics and people with known medical conditions should consult with a physician prior to taking dietary supplements. Keep out of reach of children
Allergen Info:
Allergen free
Storage Instructions:
Store in a cool dry place away from direct sunlight
Share your thoughts
If you've used this product, share your thoughts with other customers.
Write a review
Reviews for MuscleBlaze - MB Creatine Monohydrate | Unflavoured
Himanshu
My most favorite creatine
Trying from this muscleblaze creatine was a good exprience, for now i want to give a try to every other brand but this is my top favorite till now.
Sheikh
Creatine is good
I did not check the flavor when I placed the order that this is uflavored creatine. Otherwise its good.
Harsath
Will try other brand
I will try some other brand for creatine. This one is not as effective
Preetham
Very less quantity
The quantity of creatine powder is very less for this price.
Ajay
causes bloating
I would try another brand for creatine as well.. thiss one causes the bloating too much for me.
Harsh
Did not like it
1 bottle goes on long but neither the quality nor the taste of this creatine is good.
Adarsh
On point delivery
Ordered this muscleblaze product from GetSupp. Delivery was on point and impressed with the price they offered.
Jayant
Its good to follow instructions
Firstly when I ordered I did not know the proper instructions but now i knw and i follow each step carefully too use this creatine.. its not difficult, i just had to increase my water intake.
Varun
It is expensive
I dont find it any different than the creatine company i used before. Not buying it again also because its expensive.
Jiyesh
Favorite creatine of whole gym
One of the most used creatine in my gym.. everyone loves this and is a fan of it.
Israr
Effects are good but not the taste and price
A good one if its about the effects of this creatine. otherwise taste and the price are not good
Vishnu
Keeps me active during gym
I drink one shake full of creatine before I hit the gym. This keeps me focused, awake and active during the gym.
Ashish
Best creatine
One of the best creatine i used till now. they have not compromised on anything.
Suraj
Will not continue
Just finishing this creatine bottle anyhow after this not continuing this one.
Mukkesh
Good and go-to option
I prefer creatine over coffee now.. its good and definitely go to for my workout.
Adwait
Flavor is like a powder
This unflavored creatine is very bad. it tastes like a powder, not gonna repeat this flavor again.
Raushan
Real and works
This creatine keeps it real.. unflavored, no high expectations but does it works.
Gaurav
Must try
Generally people might not like it because it is unflavored but definitely a creatine in its simplest form.. must try.
Gaurav
Gets mixed easily
The easy mixing qualoty if this creatine is good. Dont have to wait long to get it mixed properly.
Thanaya
Makes exercise easy
Doing muscle building exercise gets easy after drinking this creatine..
See more reviews
Product Info
Key Ingredients:
Labdoor USA Certified 3g Creatine Monohydrate Per Serving
Manufacturer:
Sapiens Labs
Marketed by:
Sapiens Labs
Questions and Answers
Q.
What is the recommended dosage of MuscleBlaze Creatine Monohydrate for beginners?
A.
It's advisable to start with a small dose of muscleblaze creatine if you are a beginner, and gradually increase the dosage to avoid any discomfort. It's recommended to follow the 2-step process to get started with MuscleBlaze creatine monohydrate: Step 1: Loading Phase: This phase is for 5-7 Days. Start by taking 3g muscleblaze creatine with 200ml of water as a shake 4 times a day. Continue taking this amount or dosage for 5-7 days to get your muscles acquainted with creatine. Step 2: Maintenance Phase: This phase starts after the loading phase and should be continued for 21 days. The dosage stays the same 3g muscleblaze creatine with 200ml of water as a shake, preferably post-workout. However, it's recommended that you take at least a 2-week gap before starting step 2 daily. Ensure you stay well-hydrated, aiming for approximately 4-5 liters of water daily during creatine uptake.
Q.
Are there any potential side effects of using MuscleBlaze Creatine Monohydrate Powder?
A.
There are no side effects noticed or registered till now. However, be careful while consuming MuscleBlaze creatine powder in the loading phase and notice small changes such as bloating, slight weight gain, water retention, or gastrointestinal upset. If you do experience these side effects, try adjusting your dosage.
Q.
How long does it take to see results with MuscleBlaze Creatine Monohydrate?
A.
You can expect positive results in a short period of time if you follow the recommended dosage of MuscleBlaze creatine monohydrate powder.
Q.
Can women also use MuscleBlaze Creatine Monohydrate Powder for fitness and muscle gains?
A.
Yes, MuscleBlaze creatine monohydrate is a perfect creatine powder for muscle building in both men and women.
Q.
What are the best practices for combining MuscleBlaze Creatine Monohydrate with other supplements?
A.
You can combine MuscleBlaze creatine monohydrate with other MuscleBlaze supplements, such as: MuscleBlaze Super Gainer XXL Weight Gainer (6.6 lb Chocolate) to support a high-calorie diet, use it post-workout, between meals, or before sleeping to fuel your muscle growth. MuscleBlaze MB-VITE Daily Multivitamin: This multivitamin supplement from MuscleBlaze is enriched with important nutrients to provide you with energy for the day and help you with gut health, tissue repair, and stress reduction.
Q.
Is MuscleBlaze Creatine Monohydrate Powder suitable for both bodybuilders and athletes?
A.
Yes, MuscleBlaze Creatine Monohydrate Powder is suitable for both bodybuilders and athletes, as it can help improve performance and muscle gains.
Q.
Where can I purchase authentic MuscleBlaze Creatine Monohydrate Powder?
A.
You can conveniently purchase genuine and authentic MuscleBlaze Creatine Monohydrate Powder from the official MuscleBlaze at www.muscleblaze.com and GetSupp websites. https://www.getsupp.com
Q.
What are the differences between MuscleBlaze Creatine Monohydrate Powder and other creatine supplements?
A.
MuscleBlaze Creatine Monohydrate Powder is an authentic, and lab-tested supplement for its potential benefits and wide usage among bodybuilders and athletes. What makes it different from other creatine supplements is that muscleblaze creatine powder is that it is the purest form of creatine available which is backed by substantial research.
Q.
Are there specific dietary recommendations while using MuscleBlaze Creatine Monohydrate Powder?
A.
Yes, you must give a two-week gap between loading and maintenance cycles, and ensure consuming around 4-5 liters of water daily during creatine uptake.
Q.
Can MuscleBlaze Creatine Monohydrate Powder help with improving athletic performance and endurance?
A.
The right training program itself is the key component of success but when combined with MuscleBlaze creatine, the athlete's ability to perform tasks that require short bursts of power (less than 30 seconds in duration) improves even more.
Q.
Where can I find the best deals or sales on MuscleBlaze Creatine Monohydrate Powder?
A.
You can find the best deals and discounts on the GetSupp www.getsupp.com and MuscleBlaze websites muscleblaze.com to buy MuscleBlaze creatine. On GetSupp, you will get the most competitive price and the advantage of seasonal sales for various sports nutrition products, including MuscleBlaze.
About this product
MuscleBlaze Creatine Monohydrate is an ideal source of pure, unadulterated, pharmaceutical-grade creatine monohydrate. It absorbs instantly in your body to give a continuous supply of energy to your muscles for demanding gym sessions. With each serving, you get 3 g of unadulterated creatine monohydrate that improves your athletic performance by quickly resynthesizing ATP during high-intensity activities. It also stimulates protein synthesis to help you attain lean muscle mass. Muscleblaze Creatine Monohydrate Powder is a perfect gym supplement for athletes, bodybuilders, power-lifters, and crossfitters as it is 100% pure with no fillers added. An ideal post-workout supplement to improve your strength and power. Certified by Labdoor USA for its Purity & Accuracy, it is one of the best creatine supplements for you to build strength and endurance. Caution: Don't consume if you are suffering from kidney dysfunction, cardiac or hepatic disease, not recommended for children. It is better to consult a doctor/physician if you are suffering from suspected medical conditions like diabetes, hypoglycemia or you are taking other medication.
About the brand
MuscleBlaze
MuscleBlaze is India's leading bodybuilding and sports nutrition supplement brand piloting the path of the fitness industry with a revolutionary dawn since 2012. With legendary authenticity, innovation and iconicity, the house of MuscleBlaze has now gained international fame and accolades from across the globe. Our LinkedIn company page is about bringing you all the exciting BTS, greatest influencer onboarding, awards that matter and employees that vouch for MuscleBlaze to be the most sporty, aspirational space to work at!
Why choose GetSupp?
100% Safe & Authentic Products Curated By Certified Dietitians.
GetSupp Safety Shield
Thorough checks to ensure that you receive a authentic & genuine product
Free support from Certified Experts
Our experts are here to help you see results with the products you purchase
200+ brands from across the globe
Your health is our priority. We have curated the best products from around the world
Free Express Delivery*
Get free delivery / shipping on orders above ₹299/-
Discover by:
© 2023, GetSupp. All rights reserved.