"Year End Sale" is live | 50% Price Drop + Extra 12%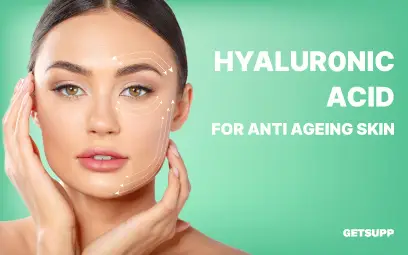 What is Hyaluronic acid and how does it help your skin?
What is hyaluronic acid?
Hyaluronic acid is a natural substance. It is an anionic, non-sulfated glycosaminoglycan found in fluids in our eyes and joints. It is present in neural tissues, connective tissues, and epithelial tissues as well. In the joints and other tissues, it acts as a lubricant and as a cushion. It might also affect how the body responds to various injuries and helps decrease swelling. It is also involved in many physiological processes like wound healing, tissue regeneration, and joint lubrication. It also hydrates the skin, controls pores, and reduces and prevents dark spots and pigmentation.
How does hyaluronic acid help our skin?
Hyaluronic acid plays a very important role in skin moisture. It helps increase moisture levels and reduces signs of aging. Here are ways in which it helps our skin:
Hydrates skin
Hyaluronic acid hydrates the skin. It can increase skin moisture and improve the quality of life for people having dry skin. A single gram of hyaluronic acid can hold up to six liters of water. It is a powerful humectant that floods the skin with hydration and helps strengthen the skin's natural moisture barrier. Long-term use of hyaluronic acid supplements taken by mouth can improve overall skin health. It may also improve overall skin flexibility and elasticity.
Hyaluronic acid supplements help with hydration of skin.
Smoothes skin texture
During the aging process, our skin changes a lot. This can have an adverse effect on our psychological and social well-being. Hyaluronic acid can help reduce the roughness of the skin and increase its elasticity of the skin.
Anti-aging
Excessive UV exposure can result in the formation of wrinkles. Applying hyaluronic acid to the skin can decrease the depth of wrinkles and may enhance skin elasticity and firmness. Oral hyaluronic acid is effective too as it has anti-aging properties that improve skin tone and reduce fine lines and wrinkles. It may reduce the depth and volume of wrinkles and improve skin luster and suppleness.
Hyaluronic acid has anti-aging properties.
Other Benefits of Hyaluronic Acid
Hyaluronic acid offers various different kind of benefits for our body, some of them are:
Speeding wound healing ( by regulating inflammation levels )
Relieving joint pain ( by acting as a lubricant )
Reduces symptoms of acid reflux
Relieving dry eye and discomfort
Preserving bone strength
Preventing bladder pain in painful bladder syndrome
What is the correct dose of hyaluronic acid?
The correct dose for hyaluronic acid depends upon the reason you are taking the supplement. In general, 150 mg of liposomal hyaluronic acid is enough per dose.
There are no universal guidelines for the appropriate use of oral hyaluronic acid. Some guidelines suggest a daily 200 mg dose, while others suggest 1,000 mg per day. Talk to your health care provider before taking any supplements and to know about the correct doses required.
How can Hyaluronic acid be taken?
Nowadays, hyaluronic acid can be taken in the form of nutritional supplements. It can also be applied topically to our skin. Here are commonly available forms:
Supplements: Supplements are designed to be taken orally in capsule form. They may hydrate skin from the inside out. Supplements have the potential to boost hydration and reduce the appearance of wrinkles.
Skin lotion: It is often applied to the skin for dry eyes, wound healing, aging skin, and various other conditions
Hyaluronic acid supplements are great for skin, and if you are looking to buy a supplement.
GetSupp is a trusted place for high-quality supplements from top brands across India. To find the best supplement suited for you, check out the website: www.getsupp.com
Discover by:
© 2023, GetSupp. All rights reserved.