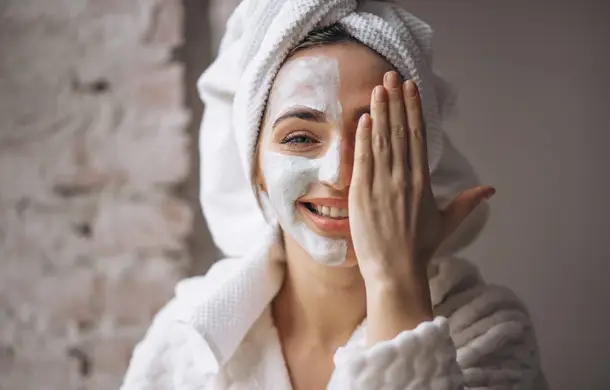 How can I stop my face from aging?
Common signs of aging on the skin are fine lines and wrinkles, dullness of skin, dry skin, visible pores, rough skin texture, etc. To avoid these, home remedies and supplements are very helpful.
Here are a few helpful home remedies that will help you fight the signs of aging:
1. Try papaya and honey face mask:
For radiant skin, use papaya and a honey face mask on the skin. To make this mixture, mash papaya and grind it enough to make a smooth paste. Add a pinch of honey to this to get some moisturizer into your skin. Apply it to your face and leave it for 25 minutes. Do this on a regular basis twice a week for best results.
2. Use sugar and honey scrub:
Sugar and honey scrub is one of the best face scrubs ever. Exfoliation can never get better and it will make your skin very supple. To naturally exfoliate your skin, use a homemade scrub. Mix a teaspoon of honey with sugar and rub this mixture on your face slowly. Keep scrubbing for 5 to 10 minutes. This will moisturize your skin and prevent it from aging, keeping the skin looking fresh.
3. Apply rose water and glycerin:
Rose water when applied to the skin has a cooling effect. It is a mild astringent and thus it works as a toner perfectly. Make a mixture by adding rose water into some glycerin, dab cotton into this, and apply it on your face whenever you need to feel fresh. This mixture can be used regularly and it will make your skin glow like never before.
4. Take Vitamin C supplement:
Vitamin C contains a potent antioxidant that helps improve skin texture and appearance. It can also stimulate collagen production which helps reduce fine lines and wrinkles. Try including vitamin C supplements into your diet along with trying the home remedies mentioned for best results.
5. Banana mask:
Banana will always give you amazing results no matter how you use it. This is because bananas contain high levels of vitamin A, B6, and vitamin C. When the banana is applied as a mask, it can help fight the signs of aging and make you look younger. To make a banana mask, mash a banana and make a smooth paste, apply it around the area of the eyes with hands or cotton swabs, dab it and leave for 10 to 20 minutes. Rinse it off with cold water.
6. Yogurt face mask:
A yogurt face mask offers many benefits as it contains lactic acid. Lactic acid dissolves the dead skin and brightens the face. Vitamin E helps with skin repair and clears the skin of blemishes. Lime juice acts as an antioxidant and helps tighten the skin. Honey acts as a good moisturizer for the face.
To make a mask, extract the juice of a lemon and add two tablespoons of yogurt, also add two capsules of Vitamin E and one tablespoon of honey to this mixture. Apply this on the face and leave it to get dry. After 15 minutes, wash your face with cold water.
7. Vitamin E supplement:
Vitamin E plays an important role in immune function and regulation of inflammation. It also helps with collagen production. Collagen provides structure and support to the skin and improves the appearance of fine lines and wrinkles. Topical ingredients that can help with collagen production like vitamin E are extremely beneficial for the skin. To maintain skin health, make sure to get enough of this vitamin.
There are tasty ways out there 🙂
Fighting signs of aging is a hard process, but with the right self-care practices and supplements, it is possible to get rid of wrinkles and other signs of aging that occur on the face. Try all these home remedies and supplements mentioned above for best results and consult with a dermatologist for a personalized treatment plan.
Discover by:
© 2022, GetSupp. All rights reserved.