"Healthy Festive Sale" is live | 50% Price Drop + Extra 12%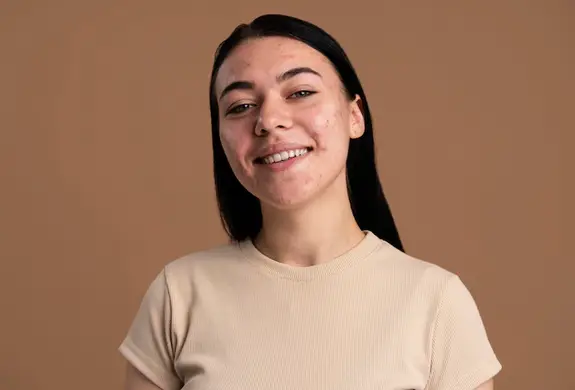 Acne scars – Diagnosis and treatment
We all go through a phase in our life when we experience acne especially during our puberty. Acne does not come alone, it brings pain and inflammation along with it and leaves behind dark spots, pigmentation and scars. Acne breakouts itself can be very challenging, but when you have to deal with the scars that acne leaves, it can be even more frustrating. Acne scars can be treated, however, before starting with the treatment for scars, acne needs to be treated. This is important because new acne can lead to new scars and it will be pointless to treat the scars when you know you will develop more.
Diagnosis of acne scars:
Before we make the diagnosis, it is important to understand how a scar is formed. When acne breakouts penetrate the skin and damage the tissue beneath, an acne scar is formed.
For the right treatment of a scar, it is necessary to understand what type of scar it is, as each scar will respond to the treatment differently and some treatment options are more effective than others for a particular type of acne scar.
Types of acne scars:
Atrophic or depressed acne scars
Hypertrophic or raised acne scars
1. Atrophic or depressed acne scars:
These scars are formed when collagen is not produced in sufficient amount while the wound is healing and a pit is formed. These scars are most commonly found on the face. A depressed acne scar is below the surface of the skin.
Atrophic scars are of three types:
1. Boxcar
2. Ice pick
3. Rolling
Boxcar:
These are U-shaped scars. They have sharp edges and are wide. They can be shallow or deep. The shallow scars respond to skin resurfacing treatment in a better way.
Ice pick:
These are V-shaped scars that go deep into the skin. These scars are very difficult to treat as they run deep into the surface of the skin.
Rolling:
These have wide depressions with rounded edges and an irregular, rolling appearance.
2. Hypertrophic or raised acne scars:
These are most commonly found on the chest and back. Raised scars are caused due to excess production of collagen and deposition while healing.
Treatment of acne scars:
Treating acne scars can be difficult but they can be made less noticeable if treated time sensitively. Try these easy to follow home remedies to get a glowing and flawless skin.
1. Honey
A superfood found in every Indian kitchen carries antibacterial properties and fastens wound healing. Applying it on skin can prevent acne breakouts and scars. It reduces inflammation, soothes skin and fades dark spots, blemishes and scars.
How to use:
1. Wash your face with a mild cleanser or soap.
2. Apply honey on acne spots and leave it for 20-30 minutes.
3. Wash it with water and pat dry.
2. Nutmeg (jaiphal):
Another magical ingredient in our kitchens that can heal acne scars is none other than jaiphal. It is used to treat several bacterial infections like cold, cough, flu including acne. It reduces inflammation, exfoliates skin and removes any spots and scars being rich in antioxidants, zinc and vitamin C.
How to use:
Take 1/2 tsp of jaiphal powder and 1 tsp of honey.
Mix well and apply on acne
Leave for 20-30 minutes and wash with water.
3. Aloe vera:
Aloe vera works as a boon for our skin from hydrating to preventing almost every skin problem. It carries astringent properties, anthraquinone that fights acne, treats all types of spots and scars, and regenerates skin cells.
How to use:
Peel of aloe vera skin and collect gel in a bowl.
Wash your face with a mild cleanser.
Apply aloe vera gel on your face and let it stay overnight.
Wash with cold water in the morning.
4. Lemon:
Close up of fresh and wet lemons isolated on white background
The sunshine fruit can heal all types of spots and scars due to its antioxidant, bleaching and vitamin C properties. It lightens pigmentation, promotes skin healing, skin cells regeneration and fades away scars.
How to use:
Squeeze juice out of 1 lemon.
Add equal amount of water to it and mix well.
Wash your face with mild cleanser.
Apply all over your face and leave for 10-15 minutes.
Wash with cold water.
The best way to prevent the acne scar from forming in the first place is to make sure you break out less. No matter how tempting, avoid popping or squeezing your acne, as it will irritate your skin and damage the underlying tissue which ultimately leads to scar formation. Follow these remedies and be regular with them to get a crystal clear skin.
Discover by:
© 2023, GetSupp. All rights reserved.