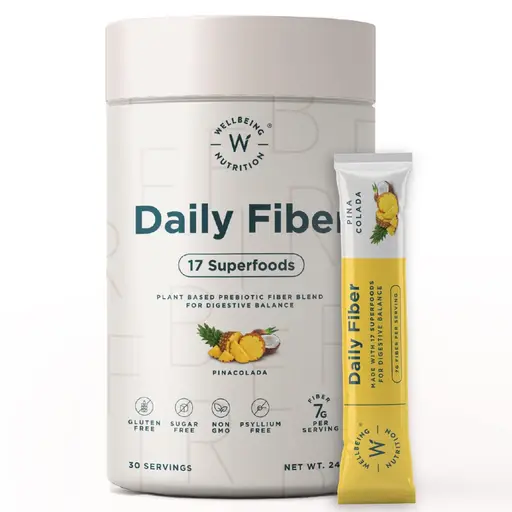 Visit Wellbeing Nutrition Shop
Wellbeing Nutrition Daily Fiber | Organic Prebiotic Digestive Fiber | Bloating, Gas, IBS, Weight Loss, Cholesterol, Sugar Control
100% Authentic Product
Sourced directly from Wellbeing Nutrition
Extra 10% off: use coupon GETSUPP10
Only on your first order. Minimum order value - ₹199/-
Free Delivery
Cash on Delivery
Easy Returns
Highlights
Helps Manage Weight
Improves Gut Health
Bloating Control
Helps Manage diabetes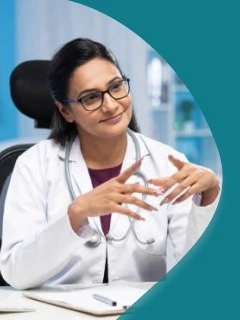 Free consultation with your purchase!
Our Certified health experts are available for online consultations to answer your queries & help you.
* Valid for 31 days from the date of purchase.
Key benefits
Relieves bloating, gas and acidity
Increases growth of good bacteria
Relieves constipation and regularises bowel movement
Improves gut immunity and nutrient absorption
Reduces cholesterol absorption from food
Maintains blood sugar levels within the normal range
Reduces body weight and boosts metabolism
Who is this product for
Contains Natural Sugars
Yes
How to use
Directions To Use:
Add to Plain water/ Juices, Smoothies/Breakfast Cereals/Plain Yogurt, and Enjoy
Recommended Dosage:
1 Sachet for Adults , Half for Kids
Safety Disclaimer:
As Mentioned on the product
Allergen Info:
No allergens added
Storage Instructions:
Store in a cool dry place away from direct sunlight
Product Info
Key Ingredients:
Organic Inulin, Fructo oligosaccharide, Oats Fibre, Organic Pea Hull Fibre, Apple Pectin, Citrus Pectin Cellulose, Partially Hyrdolysed gaur gum, Curcumin extract, Flax Seed Powder, Aloe vera Gel seed powder , Pomegranate Extract , Caraway Extract, Cinnamon bark , Fennel Seed Extract , Grape Seed extract, Senna Leaves Extract , Rice Bran Extract, Monkfruit extract
Brand:
Wellbeing Nutrition
Manufacturer:
Nutritionalab Pvt Ltd
Reviews
Narendra Jha
Greatest decision ever
I have always been facing gut isses. I've tried various organic fiber products but it didn't help much until I stumbled upon Daily Fiber. I tried the vanilla fiber and wow! This has been the best decision I ever made. It is easy to make, fast, and delicious. It has fresh, hand-picked ingredients like organic inulin, oats fiber, apple pectin, etc. that nurture the growth of good gut bacteria. I am very happy with this product and I cannot wait to try the other flavor fiber - Pina Colada.
Sarita Shah
Best in class psyllium superfood
I recently stumbled upon this psyllium free superfood fiber. Was skeptical at 1st but gave it a try. I simply loved the pina colada flavor. So much so that I gave half a sachet to my kid as well. She loved it too. I had problems with digestion for the longest, after taking this blend of flaxseed fiber & chicory root fiber, my constipation or irregular bowel issues have been resolved. A huge relief for me !
Earl
Great fiber supplement
I've tried a number of superfood fiber products but nothing can come close to Wellbeing Nutrition's Daily Fiber in Pina Colada Flavor. Wellbeing Nutrition has definitely produced a winner in the fiber supplements category for its more refined & palatable product. It is also fortified with oats fiber, flaxseed fiber & chicory root fiber which are very effective for weight loss, detox, & digestion. Worked wonders for me.
Sangeeta Kapoor
Constipation relief supplement
I'm someone who travels for work & often face constipation, bloating, acidity, & indigestion. I'm so glad I came across this organic fiber with so many superfoods. Now when I'm travelling I know I'll be ok as I always carry a few sachets of vanilla fiber with me depending on how long I'll be on the move. What's best is that this flavor fiber is so convenient, yummy, & easy to make.
Anurag
Helped maintain my sugar levels
One of the main reasons why I bought this is because I suffer from reactive hypoglycemia and my sugar/insulin spikes are very frustrating. I have marked a noticeable difference in my sugar levels stabilising based on symptoms. Secondly, I also get a lot of bloating which has significantly reduced!
Edlyn Dcruz
Helped with my constipation and weight loss
I have this flavor fiber in between meals & also have a lot of water. I noticed my sugar cravings have gone, constipation problem has been relieved, and moreover helped with weight loss as well. Trustworthy product.
Pritam Soni
Nice taste and great formulation
The pina colada flavor doesn't leave a strong aftertaste like others I have tried. It blends so effortlessly unlike the ones that are gritty and thicken up in water. I Can definitely notice visible results from Wellbeing Nutrition's superfood fiber. The blend of flaxseed fiber & chicory root fiber definitely work in synergy to help manage weight and digestion.
Ajay
Fantastic for Diabates
This superfood fiber by Wellbeing Nutrition is fantastic. My dad is a diabetic, he absolutely loves it, especially the pina colada flavor. It is sugar free, the superfoods like flaxseed fiber & chicory root fiber in this product helped him relieve his constipation issues, control his blood sugars, cravings & it's working really well for him.
Viremdra J
Really nice & Great for gut health
I was looking for a prebiotic organic fiber supplement to pair with my regular diet to increase my fiber intake and improve my gut health. The vanilla fiber supplement has natural ingredients like inulin from chicory, flaxseed powder, oats fiber, apple pectin to help with good gut health.
Steffy Diaz
My mom's constipation cure
The superfood fiber in pina colada flavor is my mom's best friend. I bought it for my mom & it has helped her so much with constipation & other digestive issues. Daily Fiber is infused with 17 organic superfoods including flaxseed fiber & chicory root fiber making it the perfect support for effective weight management & gut detox as well. I would highly recommend it.
Questions and Answers
Q.
How many days would it take for me to see results?
A.
We recommend you to at least Use it for 3 Months For better Results
Q.
Are there any side effects of this product?
A.
No, It does not have any Side Effects
Q.
Are the ingredients vegan for this product?
A.
We recommend you to at least Use it for 3 Months For better Results
Q.
How many capsules are in this pack?
A.
This Product has 240gm of 30 sachets powder
Q.
What are the benefits of this product?
A.
"This clinically tested 100% plant based dietary fiber is formulated with 17 Organic superfoods, providing you with the goodness of whole grains, legumes, seeds & fruits that your body can readily recognize & absorb to fulfill its daily fiber requirement. NOURISHING THE BODY'S SECOND BRAIN: Your gut acts as the gatekeeper to prevent toxins and harmful microbes from food from entering the bloodstream. The benefits of microorganisms in the gut for digestion, immunity, metabolism and mood have been validated by researchers across the globe. PSYLLIUM FREE RAW SUPERFOOD FIBER FOR DIGESTION: It helps relieve bloating, gas, constipation and acidity. It also reduces inflammation, stimulates calcium absorption, enhances immunity, supports heart health, controls appetite and aids in weight loss. SUPPORTS GOOD GUT BACTERIA: Prebiotics support your gut barrier by encouraging the growth of probiotics. Daily fiber is an ideal mix of inulin, FOS, & soluble dietary fiber gently supporting your gut & the growth of your good bacteria, supporting nearly every aspect of your health. BOOSTS METABOLISM & WEIGHT CONTROL: zero calorie fiber keeps your gut bacteria healthy & promotes overall fat loss by reducing your appetite. It helps with weight loss as it makes you feel fuller for longer periods of time, reduces food cravings, & prevents unwanted calorie consumption."
About this product
"SIMPLE. PROVEN. TRUSTED. India's first plant based prebiotic fiber formulated especially for Kids & Adults to fulfill their daily fiber intake & enhance digestive health. Daily Fiber is a soothing, nourishing blend of Inulin, FOS (Fructo-oligosaccharides), & soluble dietary fiber with 17 Raw organic superfoods from whole grains, legumes, seeds, fruits & spices nourishing the beneficial gut bacteria. It helps in lipid metabolism, glucose metabolism, improve natural energy, improve digestion, may relieve bloating, stomach discomfort, & improve nutrient absorption. Formulated for quick and easy clear-mixing, it's an excellent source of all natural fiber—delivering 7 grams of fiber per serving to maintain optimal bowel function and overall health. Our benefits go beyond typical dietary fiber supplements, supporting digestive and bowel health by helping to maintain intestinal microbial balance, preventing inflammation, controlling blood sugar & cholesterol levels with powerful Clinically Studied ingredients. It is free of grit, additives, gelling or unpleasant taste & mixes easily with smoothies, juices or plain water. It is free of harsh fibers such as psyllium, which can be harsh to sensitive colons. It is recommended for adults & kids consuming low fiber in their diet due to their restricted food preferences or busy schedule. "
About the brand
Wellbeing Nutrition
Provided by nature, Delivered by science We are conscious thinkers, and we believe that the Wellbeing of people and nature are interconnected. Only in nature, we found the right balance of energy, nutrients and wellbeing. Wellbeing is all about harnessing its power by identifying the most potent natural ingredients based on scientific evidence and creating sustainable ways to get nutrition in its purest, most delicious form. We are not just another supplement company.We work for a generation that wants more. More out of their day, more out of their lives, more out of their supplements, and more out of their money. We hold our community first and devote ourselves to offering more quality, more transparency, more delivery, more performance, more sustainability, and more taste
Why choose GetSupp?
100% Authentic & genuine products curated by our Health Experts.
GetSupp Safety Shield
Thorough checks to ensure that you receive a authentic & genuine product
Free support from Certified Experts
Our experts are here to help you see results with the products you purchase
200+ brands from across the globe
Your health is our priority. We have curated the best products from around the world
Free delivery on all orders*
Get free delivery / shipping on all orders. No minimum order
Discover by:
© 2022, GetSupp. All rights reserved.